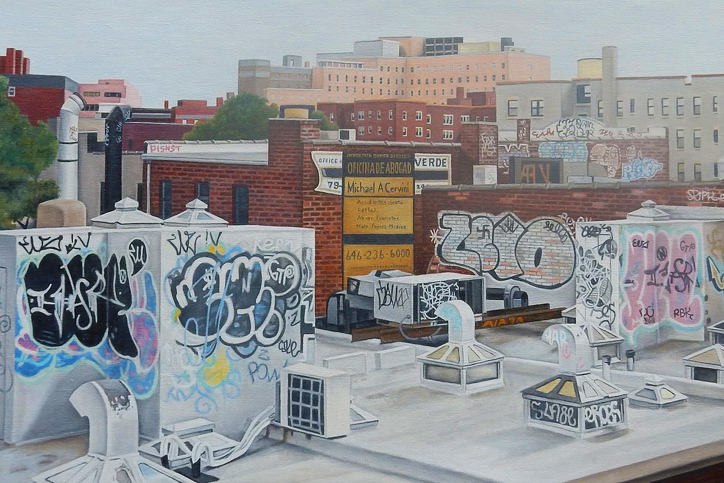 What does the phrase "living ghosts" mean to you? Does it mean that your loved ones are still among you, well after they are gone? While that's what it means to some people, OSU professor Parker Seward and Brooklyn-based artist Laura Shechter think of something else when it comes to living ghosts. They compare the idea of living ghosts to graffiti. Using graffiti as an inspiration, the two have created the Living Ghost Exhibit. The exhibit will be at The Goddard Center from September 5 to October 28 and will feature paintings and drawings that are inspired by graffiti.

American Graffiti – The Artform
While it might surprise you that these artists are using graffiti as an inspiration, graffiti has a long history as an artform in the United States. The modern history of American graffiti can be traced back to 1967, when a Philadelphia high school student known as "Cornbread" used his artistic skills to get a girl's attention. Cornbread tagged buildings to win over his crush.
People followed in Cornbread's footsteps and tagged city buildings far and wide. Widely viewed as an act of rebellion, people couldn't help but see the artistic skills that it takes to create graffiti. These graffiti artists weren't just spraying words or images on the sides of buildings. They were creating art, and that art could not be ignored.
The art world caught on, and in the 1980s, galleries opened their doors to graffiti artists. This movement continued to catch on, and now, it's common to see graffiti showcased in galleries and museums around the country.
Something interesting happened when graffiti artists started working indoors. It was discovered that graffiti artists can actually create better work when they are inside of a studio. They don't have to deal with the elements or the fear of getting caught, so they can focus on their craft. The result has been some outstanding art that has gained serious recognition.
Other Exhibits at The Goddard Center
The Living Ghost Exhibit is just one of the offerings this season at The Goddard Center. You can also see exhibits of cowgirls, open-expressionism, African art, and more. With so much going on, it's a good time to go to The Goddard Center. You are sure to be inspired when you walk through the center.
It's also a good time to go to Toyota of Ardmore in Ardmore, Oklahoma. Our dealership has all of the new Toyotas in stock, plus an assortment of pre-owned options. Also, our team is always available to answer your questions. If you want the best car that money can buy, stop by and pick one out at Toyota of Ardmore.