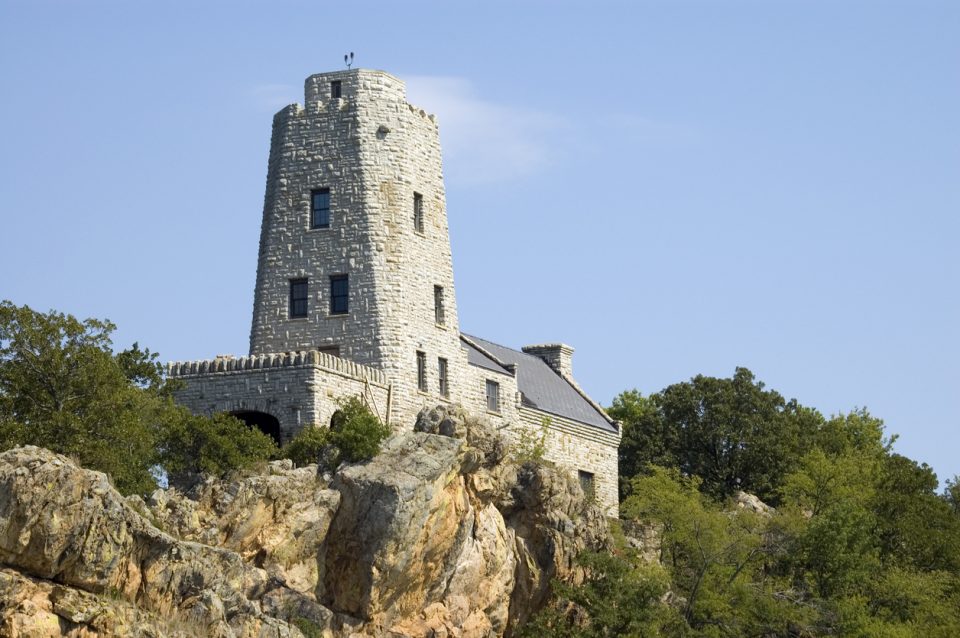 If you have family or friends coming to visit from out of town or you just want to get away for a day, leaving your responsibilities behind, going to see Tucker Tower at the Lake Murray State Park is perfect. Located at 1587 Tucker Tower Road in Ardmore, Oklahoma, you'll be glad you decided to go.

Iconic Landmark
In the state of Oklahoma, Tucker Tower is the most identifiable structure. Initially built in the 1930s by the Works Progress Administration, the plan was to use it as a summer retreat for the state's governors, but that never happened. Instead, the Tower became a geological museum and then a nature center. Named after Fred Tucker, who served as a state senator in Oklahoma during the construction of the Lake Murray State Park, Tucker Tower is well worth taking time out of your schedule to see.
To get to the Tower, you'll need to go through the park's Nature Center. You can visit from March through October, 9 a.m. to 4:30 p.m. daily. Then from November through February, it stays open Wednesday to Sunday during the same hours. Once you make your way through the Nature Center, also a fun experience, you'll walk along a short trail to reach the Tower.
Popular Tourist Site
The location of Turner Tower is what makes is so amazing. Sitting high on a cliff, it overlooks Lake Murray. On the first level, you'll discover a unique museum with various displays and exhibits that tell a story about the tower's history and the surrounding area. By going up to that level, you'll find a patio roughly 60 feet high. From there, you'll have an unbelievable view of Lake Murray below.
After spending some time looking around on the main level, you can reach the top of Tucker Tower by walking up a few short stairs. Once you reach the top level, which stands about 65 feet tall, the view becomes even more spectacular. The one thing you'll love on this level is that you can walk all the way around to see for miles in every direction. From that vantage point, you can take pictures of the lake and the area or snap a few selfies to post online.
No matter where you are on Murray Lake, you can easily see Tucker Tower. In fact, if you decide to visit the Lake Murry State Park, whether to take a leisurely stroll, picnic, or go camping, more than likely you'll spot the top of the Tower off in the distance. With beautiful trees and the gorgeous blue water below, a trip to Tucker Tower is not something that you want to miss.
Your Most Trusted Source
For new, used, and certified pre-owned vehicles, we have an incredible selection at Toyota of Ardmore in Ardmore, Oklahoma. We also offer competitive pricing, as well as financing and service.